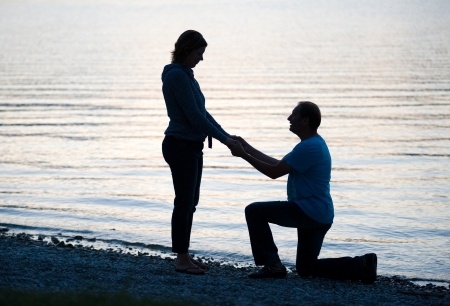 One of the most exciting moments of your life is the one where your significant other gets down on their knee and asks you to marry them. With a bright, beautiful diamond ring on your finger, most brides-to-be are ecstatic to start the wedding planning process right away. Whether you live in the area, are planning a destination wedding to Outer Banks or are interested in getting some fresh wedding ideas during your upcoming vacation, the 18th Annual Wedding Weekend and Expo is the place to be on January 16 and 17, 2016. Tickets to the event include a wide array of discounts and a chance to win your dream wedding!
Celebrate your engagement bliss in Outer Banks, visiting with hundreds of wedding experts and touring gorgeous coastal venues throughout the area. The Outer Banks Wedding Association offers this two-day event each year as a chance for newly engaged couples to learn all they need to know about planning their wedding in one fun and exciting place. Hosted at First Flight Middle and High School, the show is less than 15 minutes from Surf Side Hotel.
The expo is held from 10 a.m. to 3 p.m. on Saturday and Sunday, and the wedding venue tour takes place between 5 p.m. and 9 p.m. on Saturday. This gives you plenty of time to enjoy all the wedding fun and do some relaxing in Nags Head.
Purchase your wedding expo tickets here and then head to Surf Side Hotel to book your January stay. We look forward to your visit!