Fall is one of our favorite times of year! One of the things we love best are the fun, annual festivals. Both of these festivals have tickets, so if you'll be visiting, check their websites for full details and more info on purchasing tickets. Here are our favorite October 2021 festivals.
Outerbanks Seafood festival
October 16, 2021
Gates open at 10:30am
Enjoy arts, crafts, food and entertainment that promote, honor and celebrate Manteo's coastal seafood heritage and community.The Outer Banks Seafood Festival also promotes the positive social and economic impact of the seafood industry on the citizens of the Outer Banks; educate the public about seafood and its importance to the area's economy; publicizes the wide variety of seafood indigenous to North Carolina and the Outer Banks and provide the opportunity for people to enjoy it; and much more.
Location:
The Soundside Event Site
6800 South Croatan Highway
Nags Head, NC 27959
Tickets:!
General Admission – $15 for anyone 13 and over (12 & under FREE)
Price includes $10 in Beverage/Merchandise Bucks good for the purchase of beverages and festival merchandise. Additional "beverage bucks" may be purchased at the event.
$170 VIP Packages (90 available) include:
4 – $15 admissions (includes 4 admissions and $40 in beverage/merch bucks); 4 – t-shirts; Reserved parking
More Ticket info here:
https://www.eventbrite.com/e/2021-outer-banks-seafood-festival-tickets-156499352777
More info can be found here:
—–
Bluegrass Island  Festival
Oct 21-23, 2021
Music, Gourmet foods, walking tours and more. This 10th year anniversary festival is held at the stunning Roanoke Island Festival Park, which overlooks miles of pristine sound waters. Attendees are encouraged to purchase tickets and lodging well in advance, and despite its off-season timing, this event tends to fill up fast year after year. If you love vacationing in our amazing area while enjoying in the best bluegrass acts the country has to offer, then you'll definitely want to set this long weekend aside for the Outer Banks most popular festival!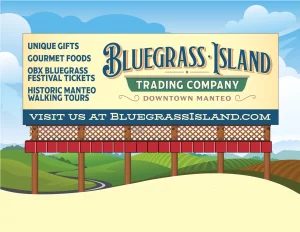 Location:
Downtown Mantea, NC
1 Festival ParkMantea, NC 27954
The musical line up:
Thursday October 21st
Free shindig kick off event at the
Bluegrass Island Trading Company
107 Budleigh Street, Manteo.
12:30PM Bluegrass Bingo
under the Magnolia Pavilion
3:30PM Bluegrass Island Cruise
6:00PM Sideline (Host Band)
Friday October 22nd
12:45PM  Backline
2:30PM  Amanda Cook
4:15PM  Sideline (Host Band)
6:00PM  The Dillards
7:45PM   Rhonda Vincent & The Rage
9:30PM  Scythian
11:30PM Late Night Jam with your host
Sideline behind the Tranquil House Inn.
Bring Your Instruments!
Saturday October 23rd 
10:30AM Cornhole Tournament
11:00AM Deeper Shade of Blue
12:45PM Larry Stephenson Band
2:30PM  Blue Highway
4:15PM  Lonesome River Band
6:00PM  BOOGRASS
7:45PM   Appalachian Road Show
9:30PM  Sideline (Host Band)
photo credits: logos are from each festival's website