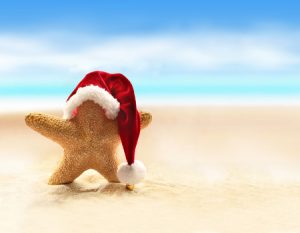 When it comes to vacationing in Nags Head, North Carolina, there really is no "wrong" season to visit. Whether you stay with us here at Surf Side Hotel during the spring, summer, winter or fall there is plenty of fun to be had and an incredible ocean view to be enjoyed!
For families planning a December getaway to the Outer Banks, we are happy to say that there is just as much to do as if you were visiting in the middle of summer; just with fewer tourists!
Our favorite December events are those that focus on the holiday season, and there are plenty of them to participate in throughout the month.
November 25 – January 20: WinterLights at The Elizabethan Gardens
All throughout the holiday season The Elizabethan Gardens is illuminated in bright, festive colors and decorations. Take a walk through with your family to celebrate the season!
The event takes place Tuesdays through Saturdays in December, as well as Fridays and Saturdays in January.
December 9: Cape Hatteras Lighthouse Holiday Climb
A free tour that can be taken between 9 a.m. to 12 p.m. on Saturday, December 9, 2017, the Cape Hatteras Lighthouse Holiday Climb is the perfect way to see all of the Outer Banks in its holiday glory!
December 9: Great White Fishmas
The most festive event of the year, Great White Fishmas is an opportunity for your children to explore what lies beneath the sea while getting in the holiday spirit. Hosted at North Carolina Aquarium on Roanoke Island, this daylong event offers fun and excitement for the whole family.
Visit the museum between 3:30 p.m. and 6:30 p.m. on Saturday, December 9 to meet with Santa and Mrs. Claus while playing games and creating festive crafts. You'll even get to see Santa Claus dive into the water in the Graveyard of the Atlantic.
December 17 – 31: Poulos Family Christmas
Hoping to see a festive light display during your holiday vacation to Nags Head? One of the most incredible ones in the country is just ten minutes away in nearby Kill Devil Hills, North Carolina! Featured on both The Today Show and HGTV, this beautiful light show is a one-of-a-king Outer Banks experience.
Just head to Ocean Acres Drive during the month of December to see the breathtaking display in person!
Waiting till the last minute to book your holiday getaway? We still have a few rooms available at Surf Side Hotel and would love to see you here!
Visit us online or give us a call at 800-552-7873 to book your vacation.